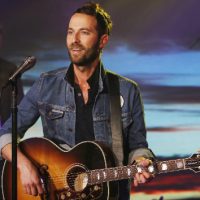 ABC/Randy HolmesMondo Cozmo's debut album, Plastic Soul, arrives today. Along with his folksy, breakthrough track "Shine," the LP features the new, dance-y single "Automatic," which was inspired by one of the Philadelphia-bred singer-songwriter's biggest career goals.
"My dream is to play Coachella, main stage, when the sun's going down," the musician, born Josh Ostrander, tells ABC Radio. "I'm like, 'What tune is gonna make the f****** place go nuts?'"
Thus, "Automatic" was born. As a whole, Plastic Soul is very sonically varied, but Ostrander feels there's one element that runs through the album.
"I have songs that sound like this and songs that sound like that," he says. "I think it's just my vocal that keeps it all together."
The title Plastic Soul, of course, was inspired by late David Bowie, who used the term to describe his own music, particularly during the mid-'70s. Ostrander actually recorded the Plastic Soul title track the weekend that the rock icon passed away.
"I was doing some research and stuff, and reading about Bowie," he remembers. "When he referred to his music as 'plastic soul,' I was like, 'That is the coolest thing I've ever heard.'"
Above all the different sounds and David Bowie references, Ostrander promises Plastic Soul is one thing: genuine.
"A lot of it was recorded in my f****** guest bedroom…with my wife singing backups," he says. "It's just a really heartfelt, honest record, and it sounds really cool to me."
Copyright © 2017, ABC Radio. All rights reserved.