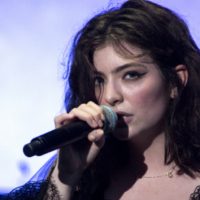 Santiago Felipe/Getty ImagesLollapalooza's first day did not go according to plan as the even in Chicago's Grant Park was evacuated just after 9 p.m. Thursday night because of severe weather, ABC affiliate WLS-TV reports.
Performances by the night's headliners Lorde and Muse were cut short.
"We are disappointed to have to end today's performances early, however our first priority is the safety of our fans, staff and artists," said Sandee Fenton, director of publicity for C3 Presents, the promoter behind Lollapalooza.
After the cancellation Lorde took to Twitter to express her disappointment.
"this is the most MELODRAMA s*** ever," she wrote. She also noted, "they've told us we can't play. i had the most spectacular show planned for you and i PROMISE i will come back to play it as soon as i can," posting a broken heart emoji.
Lorde added that she is looking into the possibility of schedule a nearby club show, writing, "i want you guys to see full tank show. will keep you posted."
Muse frontman Matt Bellamy also posted to Twitter writing, "Gutted. City/police made us leave the stage tonight 3 songs in at #Lollapalooza . Due to weather/lightning. Nightmare!" He added, "Crowd awesome, we'll be back, hope lolla book us next year to make up."
Copyright © 2017, ABC Radio. All rights reserved.