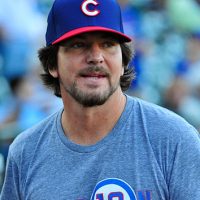 David Banks/Getty ImagesIn August 2016, Pearl Jam played a two shows at the iconic Wrigley Field, the home of frontman Eddie Vedder's beloved Chicago Cubs. Now, those shows will be documented in an upcoming film called Let's Play Two. You can watch a teaser for the movie now on YouTube.
"The first time you walk into Wrigley Field, it's like stepping into Oz," Vedder says in the trailer. We assume he's referring the land of the Wizard and the Lollipop Guild, not the Oswald State Correctional Facility.
There's no word yet on when Let's Play Two will be released, but Pearl Jam says that film is "coming soon."
For more info, stay tuned to LetsPlayTwoFilm.com.
Copyright © 2017, ABC Radio. All rights reserved.