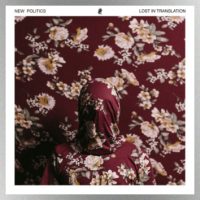 Warner Bros. Records/DCD2New Politics has announced the title of their next album.
Lost in Translation, the fourth studio effort from the Danish-born band, will be released October 6.
While Lost in Translation probably won't reveal what Bill Murray whispered to Scarlett Johansson in the middle of Tokyo, the album does feature the previously released single "One of Us," along with the new single "CIA," which you can download now via digital platforms.
"Lost in Translation represents a new phase in our lives," the band says in a statement. "After years of constant touring, it was important to us that we reinvent ourselves, and wanted to write honest songs about the real things happening in our lives."
"We spent a lot of quality time together in-between albums as friends, watching movies, hanging out, and talking about our future plans," they add. "That brotherly love and bonding initiated the first batch of songs that has helped us shape the album."
Here's the Lost in Translation track list:
"CIA"
"One of Us"
"Tell Your Dad"
"Madeline"
"Color Green"
"Lifeboat"
"Lifted"
"Istanbul"
"East Coast Thrilla"
"Clouds"
Copyright © 2017, ABC Radio. All rights reserved.