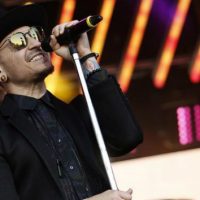 ABC/Randy HolmesIn the wake of frontman Chester Bennington's death, Linkin Park lands a record-breaking total of 23 songs on this week's edition of Billboard's Hot Rock Songs chart. The band's 2003 hit, "Numb," was the highest-charting track of the group, arriving at number two on the tally.
The previous record for tracks by one artist on Hot Rock Songs was 21, which David Bowie posthumously set on the chart dated January 30, 2016 following his death January 10. The Hot Rock Songs chart began in 2009.
As previously reported, two of Linkin Park's albums charted in the top 10 on this week's Billboard 200: 2000's Hybrid Theory, and this year's One More Light. Additionally, the band owns the top three spots on the Top Rock Albums chart with One More Light, Hybrid Theory and 2003's Meteora, respectively. They're the first act to achieve that feat on Top Rock Albums.
Bennington died by suicide July 20. In the immediate aftermath of his passing, combined sales of Linkin Park's albums and songs increased by 5,332 per cent.
Copyright © 2017, ABC Radio. All rights reserved.