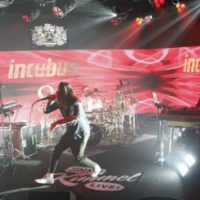 ABC/Randy HolmesIncubus' summer tour stopped in New Orleans Wednesday night, and welcomed a special guest to the stage.
Frontman Brandon Boyd was joined by R&B singer Solange for a performance of the Morning View track "Aqueous Transmission." You can watch fan-recorded footage of the collaboration via Instagram.
Guitarist Michael Einziger also tweeted a photo of him alongside Beyonce's sister. "Thank you so much for playing with us tonite @solangeknowles," he wrote.
Solange is a longtime fan of Incubus. In a piece written for Teen Vogue earlier this year, she revealed that she once went through a "Rasta-vegan-thrifter-who-is-determined-to-marry-Brandon-Boyd" phase.
Incubus is currently on tour in support of their new album, 8. The outing, which also features Jimmy Eat World and Judah & the Lion, continues August 4 in The Woodlands, Texas.
Copyright © 2017, ABC Radio. All rights reserved.
Thank you so much for playing with us tonite @solangeknowles ❤️ @IncubusBand #AqueousTransmission pic.twitter.com/807X93d5Xk

— Michael Einziger (@MichaelEinziger) August 3, 2017