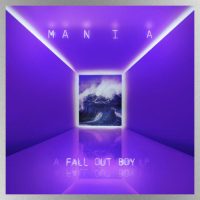 Island Records/DCD2 RecordsHere's some disappointing news from the Fall Out Boy camp: The release of the band's forthcoming album, Mania, originally scheduled for September 15, has been pushed all the way back to January 19, 2018.
Vocalist Patrick Stump revealed the news in a note posted to Twitter. "We had some long talks and a lot to weigh about it all and collectively thought that was best," he writes.
"The album just really isn't ready, and it felt very rushed," Stump continues. "I'm never going to put a record out I genuinely don't believe is at least as strong or valid as the one that came before it and in order to do that we need a little bit more time to properly and carefully record solid performances."
He adds, "I know we're supposed to come up with some really exciting story to spin in pull-quotes about how the studio exploded and I ran in to save Pete [Wentz's] bass or something. Or like aliens stole the master tapes. That would be fun for sure but the truth is, we just want the record to be better than we can make it in the next couple weeks and it will require a little more time."
Fall Out Boy's North American tour, which kicks off October 20 in Cleveland, will still go on as scheduled.
Copyright © 2017, ABC Radio. All rights reserved.
— Patrick Stump (@PatrickStump) August 3, 2017