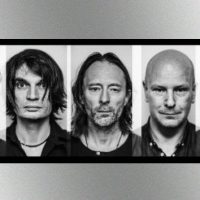 Credit: Alex LakeRadiohead will be eligible for induction into the Rock & Roll Hall of Fame next year, but if you ask the members of British band about it — as Rolling Stone did — they aren't waiting with bated breath for that day to come.
"I don't care," guitarist Jonny Greenwood says. "Maybe it's a cultural thing that I really don't understand. I mean, from the outside it looks like…it's quite a self-regarding profession anyway. And anything that heightens that just makes me feel even more uncomfortable.
Similarly, guitarist Ed O'Brien says he "culturally doesn't understand" the Rock Hall. "I think it might be a quintessential American thing," he says. "Brits are not very good at slapping ourselves on the back. It seems very show-biz and I'm not very show-biz."
Drummer Phil Selway says that going to the induction ceremony is "probably not at the top of my list of things to do," while frontman Thom Yorke's non-answer gets his thoughts across pretty clearly.
"Don't ask me things like that," says Yorke. "I always put my foot in my mouth."
Bassist Colin Greenwood, however, seems the most open to the idea, saying he'd be "grateful" if Radiohead was inducted.
"I don't know if everyone else will go though," he says. "It might be me just doing bass versions of everything like, 'Come on, you know this one!' I'd have to play the bass part to 'Creep' five times."
Radiohead's 20th anniversary reissue of OK Computer, OKNOTOK, will be released June 23.
Copyright © 2017, ABC Radio. All rights reserved.