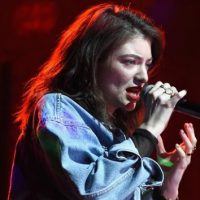 John Shearer/Getty Images via ABCLorde will be hitting the road this fall on a headlining world tour in support of her forthcoming sophomore album, Melodrama.
The international trek begins September 26 in Manchester, England and will make its way through the U.K. and the rest of Europe. In November, Lorde will hit her home country of New Zealand and Australia.
There aren't any U.S. dates on the tour — yet — but the "Green Light" singer promises that there are "so many more dates to be added." She'll of course be playing a number of U.S. festivals this summer, including this weekend's Bonnaroo.
In celebration of the tour announcement, Lorde says she's releasing a new Melodrama song tonight at midnight. She says that its title begins with the letter "s," which based on the album's tracklisting means that it's either "Sober," "Sober II (Melodrama)" or "Supercut."
For the full list of dates and ticket info, visit Lorde.co.nz.
Copyright © 2017, ABC Radio. All rights reserved.
this is just the beginning of course! so many more dates to be added https://t.co/6T6j2c9kcF

— Lorde (@lorde) June 8, 2017